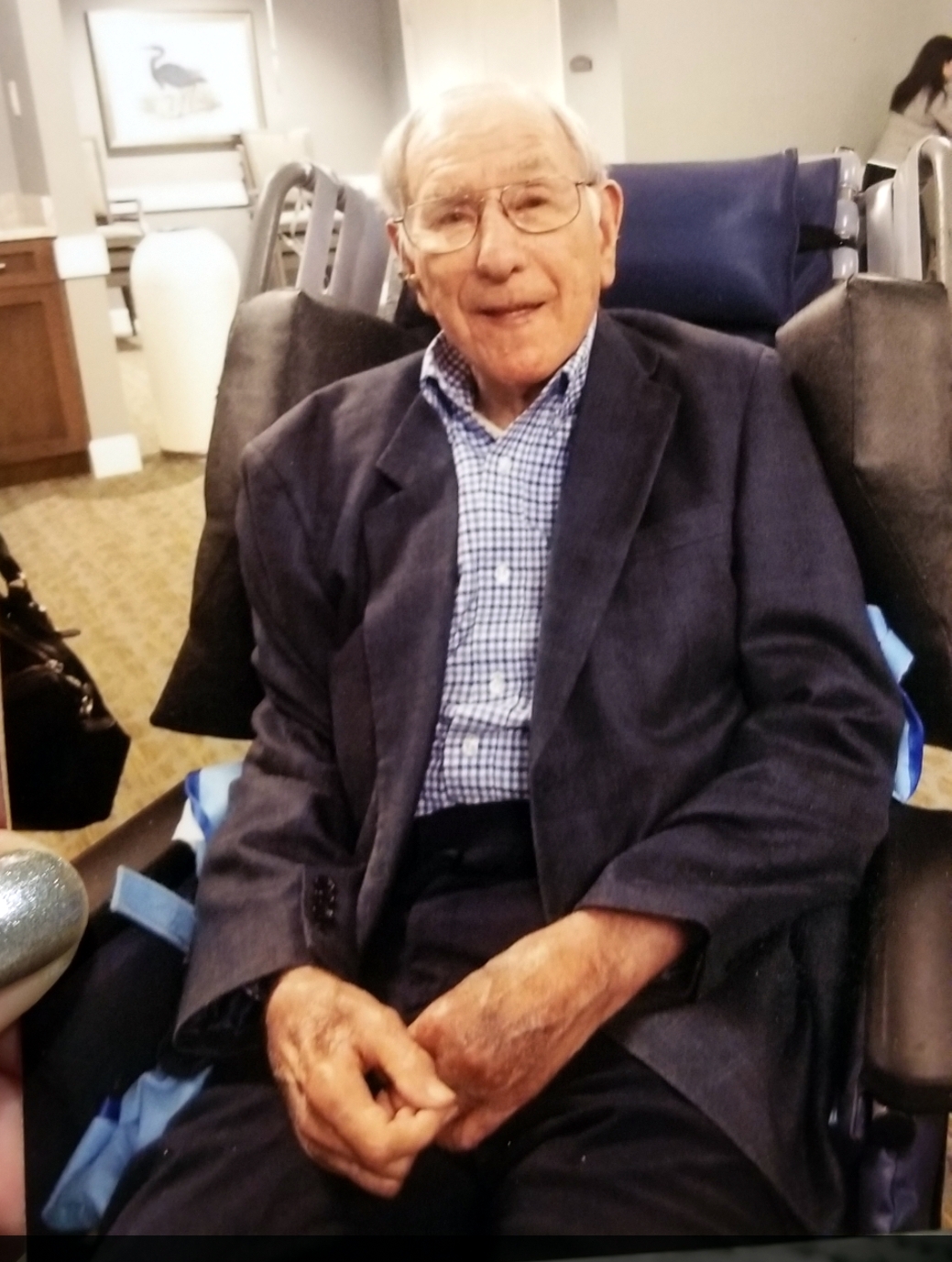 The Flip Side of Bennie
Cousin Bennie loved to play harmless practical jokes.

For instance: When I was visiting Charleston from San Francisco and went out to dinner with Bennie and his wife, Claire, he introduced me to the receptionist and waiter as Jacques Breibart. a famous French chef from San Francisco. I strung along with the charade which went so far that the restaurant's chef came out to talk with me. At that point, Bennie confessed.

He also liked to call me on the phone and identify himself as Willard Silcox, long-time tennis, basketball coach and athletic director at Bennie's beloved College of Charleston, inviting me to basketball team reunion. Bennie had such a distinctive Charleston accent that I was on to him after a couple of words.
Bennie was a very good athlete. I think he played basketball for the College of Charleston and was a top-notch softball third baseman for the AZA teams.
I visited with Bennie in April at his care facility in Summerville with nephew Barry. Bennie was in good humor. We spent a lot of time reminiscing about the College and sports and trying to remember things. When I came up with an answer to something, Bennie would put on his lawyerly voice and say, "You are absolutely right," one of his favorite expresiions.
Bennie recommended a book to me, "The Cigar Factory" by Michele Moore."Best book about Charleston ever," Bennie said. I've taken his advice. If you're interested in Charleston history and the Geechee-Gullah culture, pick it up.
Bennie will be missed,
--Jack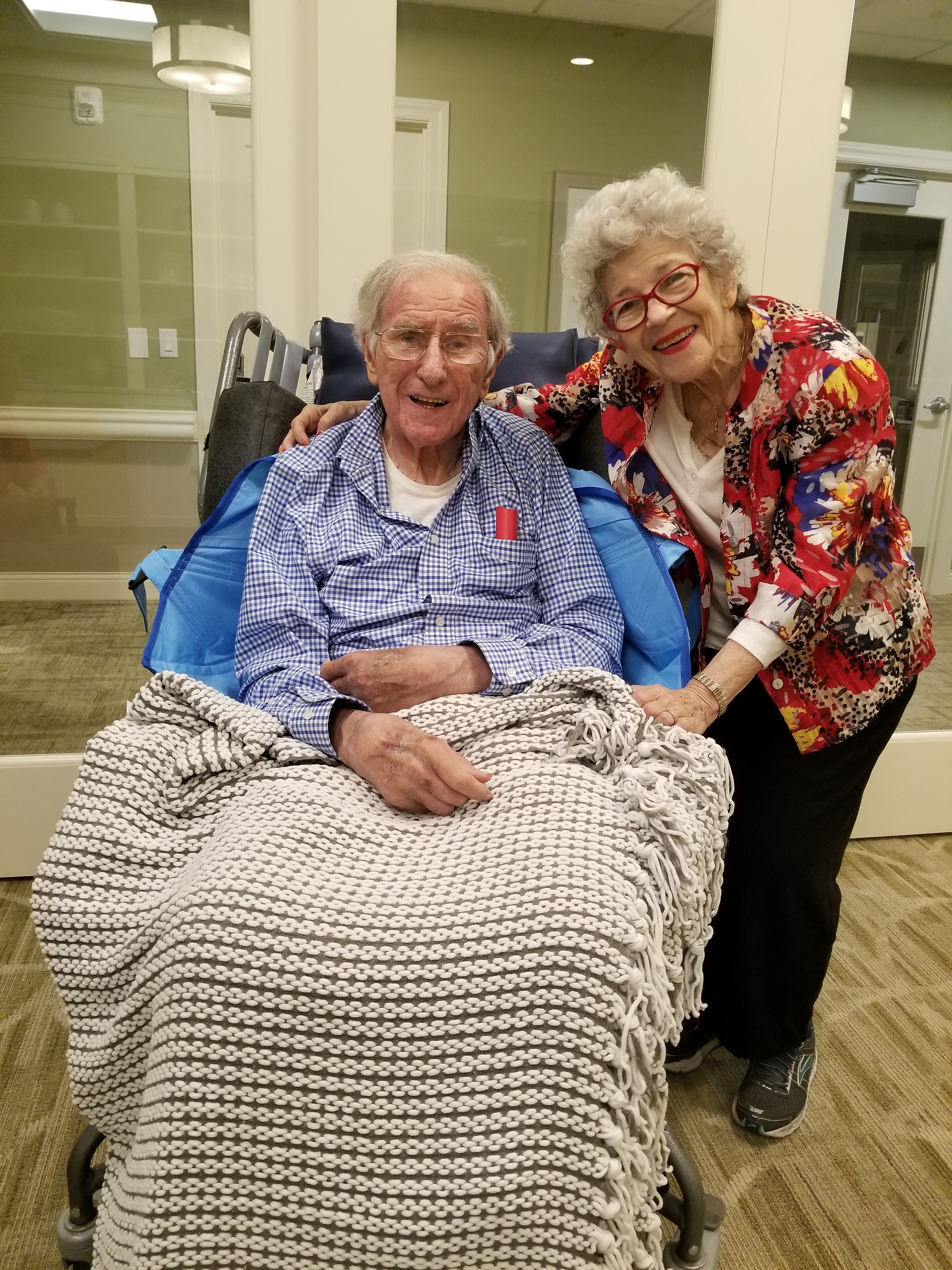 Bennie and Claire in Summerville in April


.
B
ennie on his 90th Birthday in March at his Care Facility in
Summerville
(
Thanks to his daughter, Rachel Fischer, for the photo)
Benjamin (Bennie) Goldberg
(March 20, 1929/August 1,2019)

Benjamin "Bennie" Goldberg,, husband of Claire Endictor Goldberg died Thursday, August 1, 2019. His Funeral Service will be held Sunday,
Bennie was born March 20, 1929 in Charleston, South Carolina, son of the late Harry Goldberg and Goldie Goldberg.
He was a graduate of the College of Charleston and the USC School of Law.
Bennie served in the U.S. Army JAG Corps. He was a founding member of The Christian Jewish Council, former President of the Charleston Bar Association, and a long standing member of the Hebrew Orphan Society.

Bennie served as a practicing attorney in Charleston for over 65 years and mentored many. He served as a professor of Charleston Jewish History at the College of Charleston as well as the Jewish Community Center.

Bennie was a member of Synagogue Emanu-El and a former Sunday School Teacher.

He is survived by his wife of 63 years, Claire of Charleston, SC; daughter, Rachel Goldberg Fischer of Summerville, SC; son, Joel David Goldberg of Charleston, SC; two grandchildren: Joshua Fischer and Caleb Fischer; one great-grandson, Luke Avery Fischer; and first cousins, Faye Brickman;, Mickey Sonenshine and Sidney and Jack Breibart.
Memorials may be made to Synagogue Emanu-El, 5 Windsor Drive, Charleston, SC 29407 or a charity of one's choice. A memorial message may be sent to the family by visiting our website at www.jhenrystuhr.com. Visit our guestbook at www.legacy.com/obituaries/ charleston.
(Obituary from the Charleston Post-Courier.)