George's Obituary
(From the News and Courier)
George Breibart, 97, of Charleston, the widower of Bertha Breibart, died March 2, 2014. A graveside service was held in Emanu-El Cemetery on March 4, 2014, a cold, gray day.

Mr. Breibart was born in Charleston on January 31, 1917. He was the son of Sam Breibart and Ida Goldberg Breibart.

He was a loving and attentive husband, father, grandfather, and great-grandfather.

He was a graduate of Charleston High School. He served in the Army during World War II and was awarded a Bronze Star.

Mr. Breibart worked for many years in his family grocery store on Meeting St. After retiring from the grocery business, he worked for Wholesale Industrial Electronics (WIE) on East Bay Street.

Mr. Breibart was an early member of Synagogue Emanu-El, and he was a regular attendee of the daily Minyan Service.

The family sincerely appreciates the many friendships that George developed through his "other family" at Emanu-El.

He is survived by two sons: Barry Breibart (Flo) of Charleston and Richard Breibart (Simona) of Birmingham, AL. He had four grandchildren and four great-grandchildren.

He is also survived by his sister, Mickey Sonenshine of Charleston; brothers, Jack Breibart of San Francisco and Sidney (Berniece) Breibart of Atlanta; and sister-in-law, Sarah (Solomon) Breibart of Charleston.

The family would like to thank his devoted care givers that gave so much loving care to him and his late wife, who passed away in December. We would like to especially thank his very attentive nephew, Martin Lazarus, for all his assistance.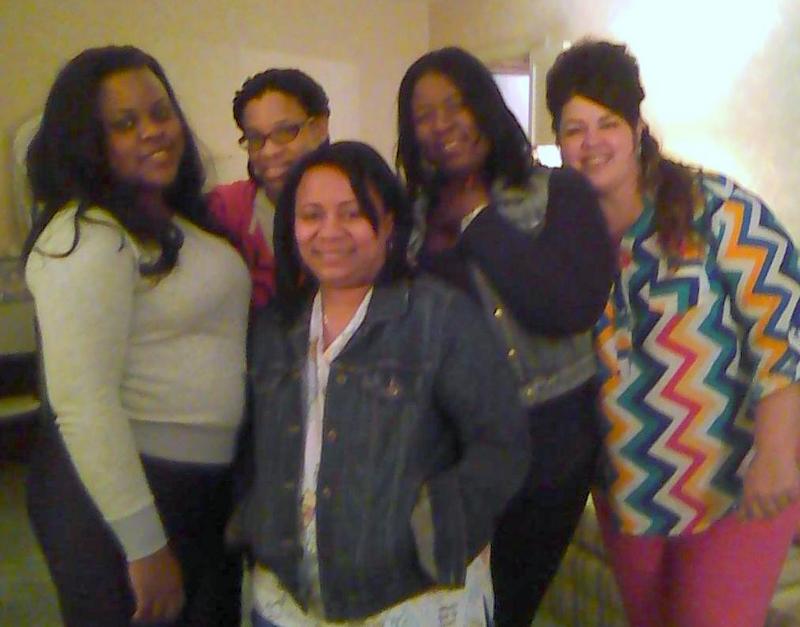 Some if the women who took care of Bertha and George in their declining years: Karletta Merisies,Tonya Pittman, Katina Nelson (front), Kanitra Byrd, and Misty Pringle.
Barry's Graveside Eulogy for George
Well, I did not expect to see all of you again - especially so soon.

First I would like to truly thank all of Dad's caregivers and recognize them. I won't read the names this time. Where are they? I skipped Tracey's name at Mom's funeral, and I definitely don't want to have that happen again. They are a truly remarkable group of women, and each of them is remarkable in her very own way. While we loved and cherished George and Bertha, these are the wonderful people that did the things for them - and with them - that the rest of us could not do. These are the people that lit the Shabbat candles for them when they were no longer able to light them. These are the people that poured the Kiddish wine on Friday nights - and shared a glass with Dad. These are the people that took Bertha to have her hair done - and maybe share an unhealthy fried chicken lunch with her. They are the family that found our family and let us become part of their family. We thank you and we appreciate you more than you can ever know.

Thanks to Hospice of Charleston for their care and concern for the entire family. Thanks to Congregation Emanu-El, and special thanks to the Minyan regulars and to the rabbi. And a special thanks to Cousin Martin for all his attention. You were all a tremendous support for Dad. And special thanks to Aunt Mickey for the special dishes that Dad loved - especially the spinach soup.

Some of you will see this day as the final chapter of the beautiful love story of George and Bertha. The rest of us choose to know differently. The rest of us know, however, that today is just one of the shorter chapters in a love story that is truly eternal.

Some of you will suggest that George died of a broken heart. I don't think that's really the case. If you could die of a broken heart, none of us would have lived through our teen years. Dad's heart was physically broken for probably 30-years. He got by on 20% of his heart's capacity for all that time. It was, instead, Dad's incredibly strong will that kept his heart working so he could be with Bertha.

After Bertha died, and he had sat Shiva, and he had observed a period of mourning to satisfy his religious nature -THEN, and only then, his remarkable will was able to slowly release him from this world, so his spirit could unite with hers. Uncle Sidney said that when they came to Mom and Dad's house after Mom's funeral, he could no longer feel her presence in the house. When he had visited before, even when she was silent and in her own bedroom away from everyone, he could always feel her presence in the house.

That thought stuck with me. Early this morning I woke up with what an old associate called a BFO - a Blinding Flash of the Obvious. Yesterday, when we were going through Dad's stuff and cleaning up, I knew he was gone. I couldn't feel him with me. Even when I held things that he had cherished, he wasn't there anymore. His presence was gone - just totally gone. His spirit had left the house. His spirit was gone - gone to be with hers. So while George surely loved each and every one of us - and every single one of you - and some part of him fought a vigorous battle to stay here in this life with us - there was absolutely, positively nothing any doctor could do, nothing any nurse could do, nothing any child, grandchild, or even a great-grandchild could do to keep those two spirits apart.


Mark Twain wrote a book called Captain Stormfield's Visit to Heaven. In Mark Twain's version of heaven, an individual was allowed to exercise their full potential - no matter what their position during their earth-bound life. Janitors became generals. Waitresses became doctors. Because I believe that Mark Twain's writing exposed many great truths, I have no reason to believe he was not accurate in his description of heaven.

George was very smart, but he was also very humble. Since I accept Mark Twain's premise that God lets us all use our full potential in heaven, I can only conclude that God finally realized that he (or she - to be fair), God finally realized the need in heaven for a vice-president of finance and operations for Heaven Incorporated. George made an ideal choice as an addition to his staff. And I'm just guessing - just guessing mind you, that when George is finished with his day's work in heaven, he'll come home - driving slowly and carefully - come home to the house Bertha picked out for them - and he'll come home to the heavenly aroma of her now universally famous Mandel bread.
Dad said that he didn't care what I said at his funeral --- as long as it was short.