The London
Bar Mitzvah
Jonathan Samuel Breibart celebrated his Bar Mitzvah on a chilly February 7 in the beautiful West London Synagogue,which was established in 1840, the year Queen Victoria married Prince Albert.

The Saturday morning Bar Mitzvah highlighted a full weekend of events, hosted by Claudia and Evan, Jonathan's parents.

Guests for the Bar Mitzvah celebration had an international flavor, representing seven countries - United Kingdom, United States, Greece, Belgium, Bermuda, South Africa and Italy.

Presiding over the Sephardic Bar Mitzvah service were West London's Senior Rabbi Julia Nueberger and Rabbi Helen Freeman. Rabbi Nueberger is also known as Baroness Nueberger, for her position as a peer in the British House of Lords.

Jonathan, who is called "Jo" by his family, read his Torah portion and delivered his speech with three C's -- confidence, coolness and clarity. It was an eloquent performance.

Also participating in the service were his parents; his siblings, Laura and Olivia; and his grandfather, Sidney. His grandmothers - Bella and Bernice - were front row observers.

The weekend officially started Friday morning with a bus tour of the city, led by aprofessional tour guide, Stephen Burstin. The tour covered the historic landmarks of the city -Buckingham Palace, Trafalgar Square, Parliament, London Tower -and also went to the East End, where Jews set up homes and businesses and garment factories in the first part of the 20th century after immigrating from Eastern Europe. "The East End Area," Burstin said "was like the lower East Side in New York."

Highlight of the bus tour was a visit to the Bevis Marks Synagogue, the oldest synagogue in Great Britain. It was built in 1701 by Jews fleeing Spain and Portugal and was tucked away in a back alley because Jews were not allowed to build on public streets. Services are still held in the synagogue, which is Orthodox Sephardic.

Friday evening many of the visitors attended services at the West London Synagogue, which is located in central London, close to the iconic Marble Arch. After the service, buses took guests to the Royal Thames Yacht Club, overlooking Hyde Park, for a seated dinner of: smoked trout, wasabi and buttermilk panna cotta with apple and radish salad; baked filet of sea bream with olive oil mash, grilled courgettes, olive oil and chile dressing; perfiteroles with chocolate sauce and ice cream; and coffee with club mints.

Saturday evening's event was a dinner and dance at the famous Claridge Hotel. More than 175 guests enjoyed a bountiful buffet and an amazing separate dessert room. The huge hall rocked with a live band and its two vocalists and Laura solo performance of her orginal song.

Jonathan's friends (and the older folks, too) got a big kick out of clowning it up in a quick photo booth - which provided comic props and instant results.

Jonathan and his dad also got the traditional chair rides.

The weekend wound down on Sunday with at open house at Claudia's and Evan's home in Kensington.
Family guests for the weekend were Leah and Alexis (Santa Monica); Andrew (Crestsa Butte, Colorado); Mark, Sheryl, Emma (Boston) and Becka (Durham, N.C.); Stanley and Debbie (Atlanta); Nancy (Columbia) and Emily (Washington); and Jack (and Nonie) (San Francisco).

In lieu of presents, Jonathan requested that donations be made to charity. His charity choices are The Simon Wisenthal Center, Bumblebee Conservation Trust, Send a Cow Charity, and Magen David Adom Organisation.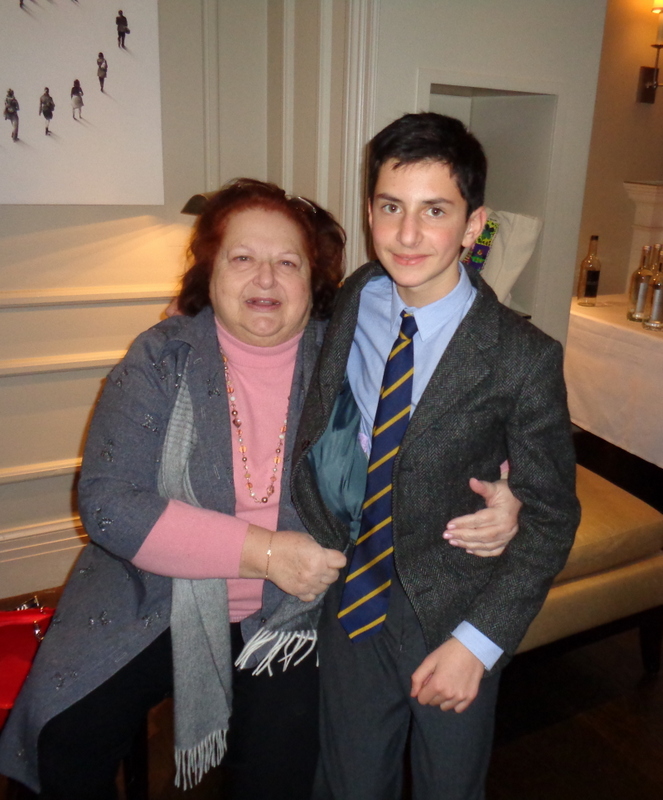 Jonathan and his grandmother, Bella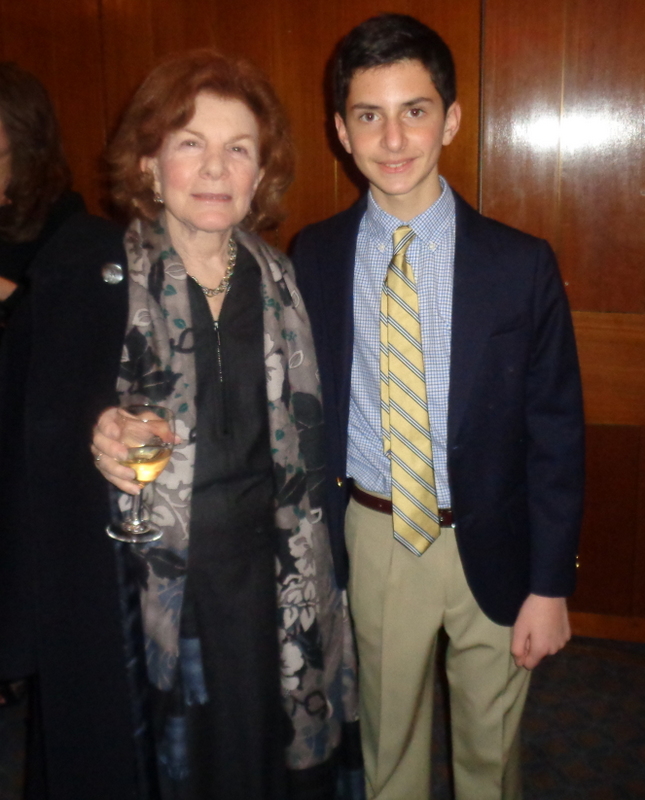 Jonathan and his other grandmother, Bernice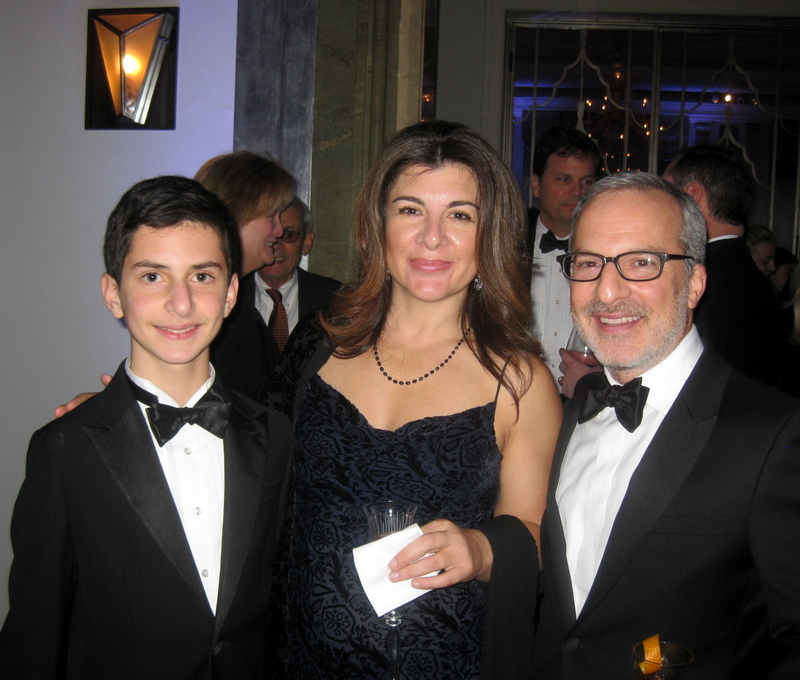 Jonathan, his aunt, Leah, and dad, Evan

MORE BAR MITZVAH PICTURES,CLICK HERE

(Thanks to Emily for her Bar Mitzvah pictures and to Jonathan H. for Mickey's birthday photos)
Jonathan Rises to the Occasion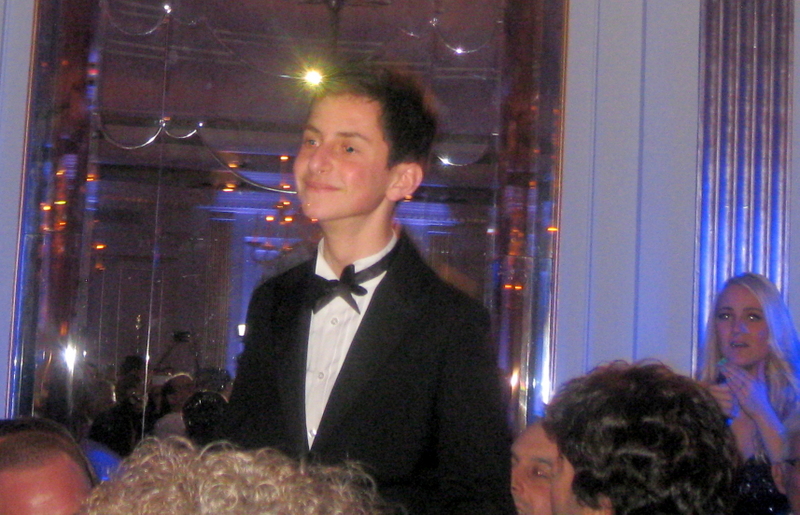 Jonathan gets ready to be lifted for the traditional chair swirl at the dinner and dance at the Claridge Hotel