Laura (left), Rabbi Nathan Abramowitz, and Laura's teacher, Fiona Elkinson; on right, Andrew and Evan during service
By Barry Breibart
Laura Breibart celebrated her Bat Mitzvah by being called to the Torah Saturday, August 8.
The ceremony was held at the Tucker's Point Hotel in Hamilton, Bermuda. About 100 family members and friends attended the event.
Evan, Claudia, Jonathan, Olivia and Andrew also participated in the service along with friends and family members.
Rabbi Nathan Abramowitz and Fiona Elkinson conducted the ceremony with Laura. Laura did a great job with her Torah portion and her Hafotrah.
Her performance was all the more remarkable because of the short length of her preparation time. Laura was trained by Fiona, president of the Bermuda Jewish Community, using SKYPE over the Internet.Laura also dedicated a solo performance of the song El Rey Nimrod to her grandmother, Bella.
El Rey Nimrod is a Jewish folk song. It is supposed to have originated in Spain in the Middle Ages. After the expulsion of the
Jews from Spain, the song became popular in the Sephardi communities of the Mediterranean. Laura sang the song in Ladino, the Jewish-Spanish language.
.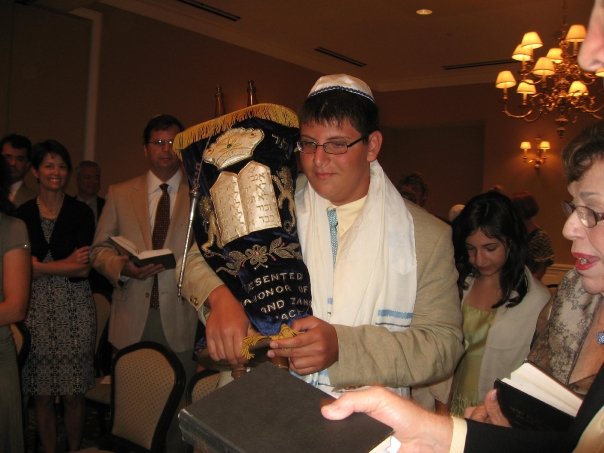 Laura's cousin, Izzy Materasos, with the Torah
A reception at the hotel followed the service. Evan and his family hosted a Shabbat dinner on Friday night and a celebration dinner on Saturday night after the Bat Mitzvah.
At the Saturday evening event, Laura sang two songs from ABBA that showcase her singing talent: Thank You for the Music (from Mama Mia) and Any Dream Will Do (Joseph and the Technicolor Dream Coat).
Guests were also treated to a beach barbeque on Thursday night and a Sunday afternoon visit to Evan and Claudia's beautiful new home.
The recently renovated home features an infinity pool that gives you an amazing lawn chair view across the pool to the strikingly blue waters of Castle Harbor.
Grandparents Sidney and Bernice were in attendance along with Aunt Leah, Uncles Todd and Andrew and cousin Alexis. Several of Sidney's and Bernice's friends from Atlanta were also there. The Meeting Street Breibart's were represented by Barry and Flo; Stanley and Debbie; and Richard and Simona with Jamie and Jeremy.Claudia's family was represented by Mother Bella; her sister, Katia; her brother, Victor, and their families.Numerous friends from Greece also attended.
Uncle Todd Sherman organized a golf event for a couple of foursomes on Friday morning.
Laura had a message for family and friends who were unable to make the trip. "I'm really sorry to the people who didn't come. I really missed you guys!! Next party my wedding!!!! See y'all later."