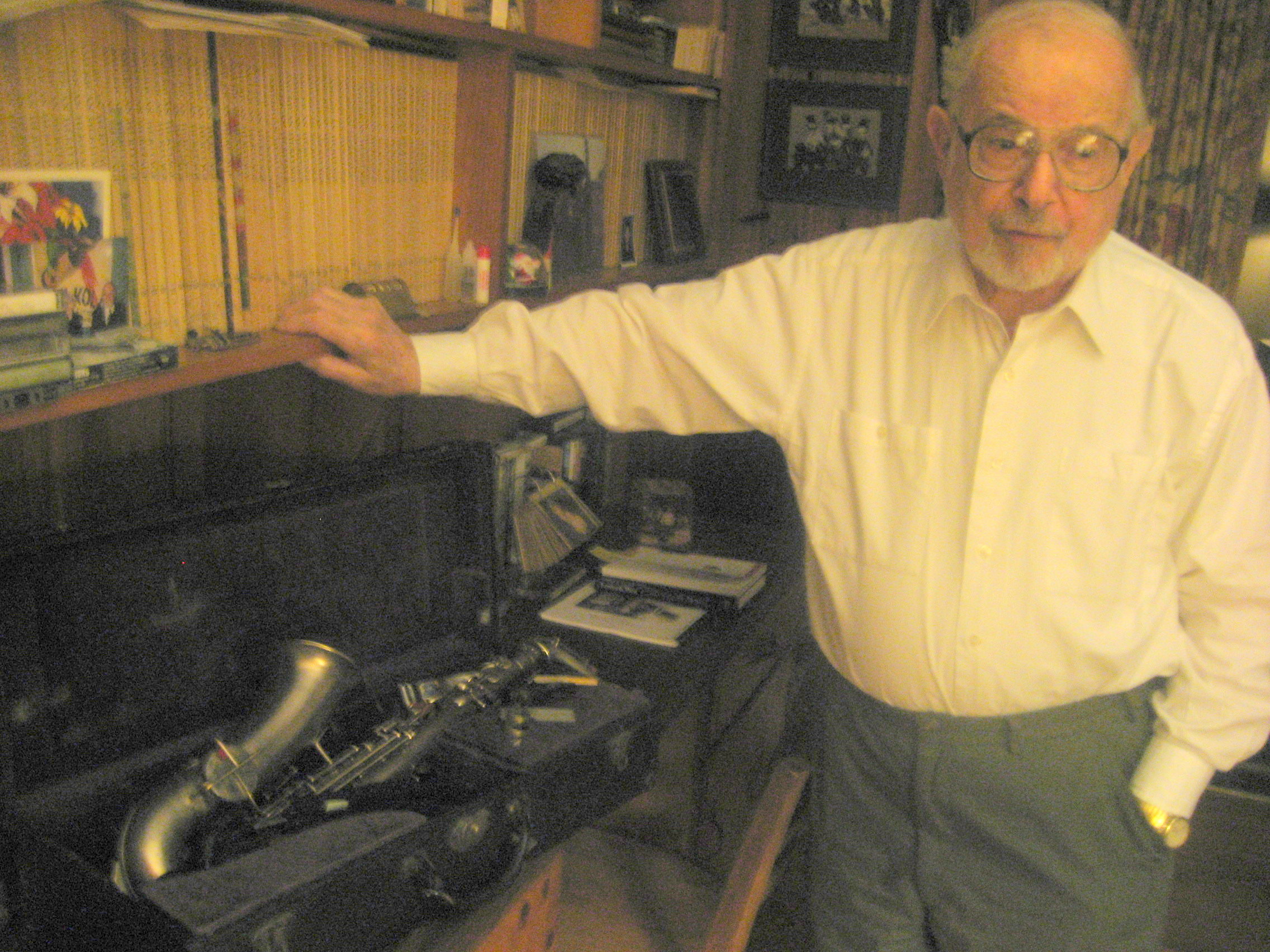 Solomon Breibart, born November 8, 1914; died October 31, 2009
EULOGY BY MARK BREIBART
A funny thing happened in the obituary section this morning, not a place you normally find much humor. As some of you may have seen, the notice for my father read "Solomon Bolgla Breibart". "Bolgla", of course, is my mother's maiden name, not my father's middle name. But other than that someone doesn't know how to write headlines -- where is my uncle the newspaper headline writer when you need him? - I have to say the mistake actually makes sense. To my father, family was not about genes; there was no "my" side of the family and "yours". Instead, it was about people you cared about. It was about loyalty and love and responsibility. In an ironic kind of way, the headline writer got it right.

This coming weekend would have been my father's 95th birthday. I have to say that slowly, because 95 is a lot of years. It reminds me of another birthday, 15 years ago, when he turned 80. It was a birthday that illustrated a number of the traits that made my father who he was.
At the time, we - my sister, my wife and young daughters, and I -- thought 80 was a lot of years and we wanted to do something special to celebrate it. After all, we didn't know how many more birthdays we could count on and we wanted to take advantage of a happy occasion to honor him instead of waiting for the inevitable event that, fortunately, didn't come for another 15 years. The problem was that we thought there was no way Dad would go for it. In the first place, birthdays were never a big deal for him or Mom. A card; a phone call; maybe some flowers or a book. That was normally all there was. In the second place, Dad never sought the spotlight; in fact, he would shun it. He was simply not interested in doing something just to bring attention to himself. Some might call it modesty; some might call it humility. But while he had plenty of those, I think it was something else. I think it was that Dad went about his life with a focus and a purpose that stemmed from someplace deep within. His sense of who he was, what he was, was rock solid and internally derived. It's not that he was oblivious to others or that what others thought about him was irrelevant, but neither did he need approval from others to be comfortable with himself. He was as self-contained as anyone I have ever known.
So we figured we were in for a big fight. Dad was a pretty predictable guy, but in this case he proved us wrong. He surprised us and agreed quite readily. The result was a wonderful party, complete with toasts and speeches, to which our entire, extended family as well as close friends came. Not only that, but he actually seemed to enjoy himself.
For some reason, I never asked him why he agreed to it. And with Dad, if you wanted to know how he felt, you had to ask a direct question. But I have a couple of guesses. One is that he had mellowed a little bit. During the middle third of his life, before he retired in his early 60s, he was sometimes working as many as three jobs - teaching at Rivers, teaching at the College, working at the Jewish Community Center. He was a hard-working man, dedicated to his work, and he was probably always busy and usually tired. I certainly remember how almost every evening he couldn't keep his eyes open and would fall asleep in his chair in the den as he watched the news or the Late Show. He undoubtedly had little time or energy for such folderol as celebratory parties, and even less interest.

But after he retired, the pace of his life slowed a bit and he grew more relaxed. The sharp edges of his stubbornness softened and he was more able to enjoy himself.
He was also able to devote more time and energy to family. Most obviously were his two granddaughters on whom he doted in his own, quiet way. In a less obvious way, I suspect he was also conscious of his role as the senior member of a large, extended family. For some, he was a role model, a mentor, a strong presence, helping with his brothers and sister to hold a far-flung family together. In addition, he had lost two brothers-in-law at ages way too young, and he and my mother were playing a very important role to help fill the void for those nieces and nephews and their kids. In fact, to digress for a moment, I don't think I fully realized until these past 8 months as his health deteriorated, how important a role my parents played. The amount of concern, love, and respect that has poured out from the whole family has been truly astonishing. Uncle Solly has been a very central person in this family for a long time and, on that celebratory 80th birthday party 15 years ago, I think he knew this and was willing and happy to provide the excuse for everyone to get together, and to give people the opportunity to show how they felt.
Appropriately, the party was held in the Calhoun Mansion, an absolutely grand house built in post-Civil War Charleston. Gedney Howe, a former student of my father's who owned the mansion at that time, very generously let us use it for the man he affectionately knew as Mr. Sol. (Dad's role as a teacher and friend to generations of students is a subject for a whole other talk.)
I say "appropriately" about the Calhoun Mansion because its painstaking and precise renovation represented the kind of intense devotion to the past that was so much a part of my father. Over the last third of his life, Dad's role as a historian blossomed and his interest in the past was allowed free rein. Dale Rosengarten will speak (has spoken) about his role as a historian in the community, but from inside the family, all things historical were simply what he did. In fact, the last two books he ever read were histories -- one about the unfair conviction of a black man in the Charleston of many years ago and another about Andrew Jackson. He loved going into archival areas of a library - and the dustier and less-used the better. Once, when he was showing off the College's archives to me, he wanted to make a little stop in the room with phonebooks from the early 1900s. He just had to verify the address of someone he had been thinking about. But above all else historical, he loved Southern Jewish history and Charleston history. What he enjoyed doing as much as anything else was giving visitors a tour of Charleston where he could combine both of those. He just loved it. He would drive the guests around, pointing out all kinds of details about Charleston that very few people would be aware of - and you often couldn't tell whether he knew what he was describing because he had studied it or lived it.
And he just loved details. No detail was too insignificant for him to want to uncover and understand. Sometimes, that could exasperate those of us around him who were not so inclined. I can remember many a family trip to some historical site where he just had to read every single plaque and look at every single artifact despite the complaints of his kids that we couldn't walk one more step. But to him, the truth, the historical reality, had to be built up from the details - the small events that shaped why this synagogue building was built as it was; or why Rabbi Raisin took the pulpits he did; or who all the individuals were in the Coming Street Cemetery. And before he could write about something, or describe it to someone else, he had to feel he understood all the details and to get them right.
To my father, getting the details right was enormously important. But getting historical details right was only a small part of it. To him, there was a right way and a wrong way to do everything. He was pretty uncomplicated like that. There was really nothing to discuss. Whatever he did -- whether preparing for a class, running a day camp, writing a paper, or being a friend -- he always tried to live up to his definition of "doing it right".
In closing, I have to tell a little story from a long time ago that has stuck with me. In the early '60s, Dad was the Director of an overnight camp in Cheraw, SC for the Jewish Community Center. As most of you know, he was not one to show a lot of emotion. But one night, long after lights-out, he woke up all the boys and gathered us together in the largest boys' cabin. And he was furious. Probably angrier than I have ever seen him. He paced around the room, letting us have it. So what was the big crime? Apparently, some of the older boys had run a panty raid on one of the girls' cabins, and my father had found out. In his mind, that was simply not done and he let us know how he felt in no uncertain terms. You knew the rules and you followed them. If you couldn't follow the small rules, how could you ever deal with the important ones. Period. End of story.
So that was Dad. You set high standards and you followed them. When he started getting sick about 8 months ago, he had a very hard time accepting that he could no longer meet those standards, that he could no longer do what he expected of himself. You know, as he himself said, he had had 67 years of a wonderful marriage and 94 years of very good health when he could do as he wanted. If most of us were told that we had the chance of 94 years of a healthy and productive life, we'd be glad to take the chance. I know he was. Thank you.
EULOGY FOR SOLOMON BREIBART
By: Rabbi Anthony D. Holz
We meet here today to pay tribute to the life and memory of Solomon Breibart: a loving husband, brother, father, and grandfather, a good and loyal friend to many, a dedicated, caring and effective teacher and mentor, a trained historian with a critical mind, gentle wit, and the ability to express himself clearly, a man of unshakable principle and quite manner, always a gentleman and scholar.
Solly was born in Charleston, SC on November 8, 1914, the oldest Breibart child in a large family which was closely related to a number of other Charleston Jewish families. After graduating from Charleston High School and the College of Charleston, he earned a master's in history from the University of North Carolina. While pursuing his studies in North Carolina, his whole world - view expanded. In his words: "I really blossomed forth liberally. My ideas changed a great deal, almost radically.
In 1938 Sol returned to Charleston with his Master's degree and a teaching certificate, and he joined the faculty of the High School of Charleston. Over some 18 yrs he worked their as social studies teacher, guidance counselor and student council advisor. And subsequently he held other teaching positions. He loved teaching and throughout his life had a ready rapport with young people.
While still at college, Sol become active in the Jewish fraternity Aleph Zadik Aleph (AZA). His involvements included his becoming AZA's field secretary for the Southeast and a regional leader of note.
Also while at college, Solly played the saxophone in a band as a way of earning extra money. While playing in the band at one of the AZA dances he met Sara Bolgla who became his wife and life partner. The couple were married in 1942 and shared 67 happy years with each other, as they raised their children together and together lived through the changing times.
. Sol Breibart was deeply committed to teaching as a way of helping others. As an instructor and mentor he had much influence on very many people. And he actively supported the racial integration of the Charleston Schools. He was highly critical of the white flight from the schools and its long-term destructive effective on the whole educational system.
Shortly after Sol and Sara were married they became members of Kahal Kadosh Beth Elohim. Sol soon was elected to the KKBE board of trustees and served as secretary for 11 yrs. During the tenure of his friend Rabbi Burton Padoll, he was ready to be president of the congregation. Even though Sol Breibart had led a number of other Jewish, professional and civic organizations with distinction, the honor of being president of this congregation was denied to him.
But with his deep communal Jewish roots and his steadfast liberal principles intact, Sol rechanneled his energies into historical research. Eventually, many of his various writings were assembled in his book Explorations in Charleston's Jewish History which came out in 2005. Praising Sol's work, Rabbi Gary Zola, the Executive Director of the American Jewish Archives commented that: " Faithfully preserving and reconstructing the history of Jewish Life in Charleston, Sol Breibart's research constitutes an indispensable source for understanding the history of Jewish life in Charleston."
Sol was deeply involved with the Southern Jewish Historical Society and was its president in 1983 and 1984. He was also strongly supportive of the formation of the SC Jewish Historical Society and greatly valued the emergence and strengthening of the Jewish Studies Program at the College of Charleston. While fully knowing and remembering the Jewish past here, he was actively enthusiastic in his appreciation of positive changes in his congregation, his community and his country .
With deep personal integrity and soft-spoken leadership Sol Breibart long provided and still provides for all who knew him a model of how to live one's life. The last few months sadly brought him pain and suffering. But he remained essentially himself. At last he is at rest.
Solomon Breibart will long be remembered: - by Sara, his wife and life-companion, whose loss is beyond measure, and to whom all our sympathies must go - by his daughter Carol Breibart of Denver, CO and his son Mark with his wife Sheryl White of Boston, MA - by his beloved grandchildren Becka and Emma - by his three brothers, George Breibart of Charleston, SC, Dr. Sidney Breibart of Atlanta, GA and Jack Breibart of San Francisco, CA, and by his sister Mickey Sonenshine of Charleston, SC - by all members of his larger family - by his very many friends and colleagues both in the teaching community and that of historical study - by the members of the Low Country Jewish Community and specifically Congregation Beth Elohim which has now lost its most gifted historian - by all those many whose lives he touched and helped shape.
Zichrono Livracha - his memory will surely be with us all now and in the future as a source of enduring blessing.
Eulogy by Dale Rosengarten
Curator, Special Collections
Marlene and Nathan Addlestone Library
College of Charleston
Sol was a man who chose his words carefully. No frills, no platitudes. That's why his writings are timeless.
My dear friend Sol was a scholar, deeply committed to the life of the mind and productive right up to the end. He had not yet completed his biography of Rabbi Jacob Raisin, and was planning to work on a study of an earlier KKBE leader, David Levy, but time ran out.
Sol was a truth-seeker. He believed that the truth was out there, if we only looked hard, with clear eyes-no post-modernist moral relativism for him.
Sol was old-fashioned in his principles and progressive in his politics. He sought justice with his heart and soul, and was especially troubled by prejudice against people of color. He was a champion of Bert Padoll and the Civil Rights Movement, back in the '60s and right up to the present.
Sol was progressive but not a party man, in either sense of the word. One sign of his ability to grow with the times was his willingness to use email, which turned out to be a blessing to untold numbers of researchers.
Sol was a crusader in his own quiet way. His cause was the chronicle of Charleston Jewish history, a subject he knew more about than anyone on the planet, and a field he advanced in the most concrete ways.
He was a keeper of records, not only of the burials at Coming Street, but of Jewish burials everywhere in Charleston. He wrote. He published. And most monumentally of all, he set in motion the forces that created the Jewish Heritage Collection.
When Sol engineered the gift of KKBE's congregational records to the College of Charleston's Special Collections, I'm not sure he envisioned the consequences, but there is no doubt that without the acorn he planted there would be no towering oak.
Late last spring, Sol called me and asked that we come pick up his research files-he wanted them transferred to the College library and wanted it done now. When Marie Ferrara and I got there I noticed that the label on each file drawer said "for JHC," but he had crossed that out and printed in big letters: for Dale. I never received a greater gift.
Sol was a loving and beloved father, a devoted husband of 67 years-66 ½ of which, Sara recently told me, were perfect. He was a loyal and generous friend.
He was a musician of some local renown. One of my great regrets is that I never heard him play.
Sol was a man of deep humility. He was humble, but he knew his worth. Some time ago he told me he knew what he wanted inscribed on his tombstone. Only one word-teacher.
Sol was first and foremost a teacher-not only at the High School of Charleston, where he worked for 18 years, and later at Rivers High School, where he witnessed Charleston County's first efforts at integration-but everywhere, every day, with everyone. Solly was a teacher.
When someone beloved dies, we console ourselves by saying he or she has left a "lasting legacy." In Sol's case, this is the literal truth. His writings, beautifully compiled in a single volume by Harlan Greene, will live forever. And speaking for Harlan and myself, his disciples desire nothing more than to carry on his work.
My one solace-and here I will end-is that Sol will be buried at the Coming Street Cemetery, where he can spend eternity watching over the spirits of those early Charleston Jews he served so diligently and so well.