The Back Yard -- Around the Chinaberry Tree
There was more to 753 (born 743) Meeting St. than the store and upstairs. There was also the back yard.

The yard was first surrounded by a wooden fence and later a cinder block fence. The large double-door gate opened to Maple St on the north. It was the entrance way -- along a concrete driveway -- to the car garage, which occupied the southwest corner of the yard.

On the west side lived the Chassereaus, on the south the Franks, whose yard was parallel with ours. The Chassereaus had five children -- one, L.G., thought he was a car. The others were a little more normal.

Like the fence, the garage, too, had been rebuilt in cinder block from wood.

On the house side of the garage, there was a small adjunct. In the days of the wooden garage, the dirt floor area was used as a chicken coop where we could pick up fresh -- very fresh -- eggs. The smell in the coop was not fresh.

The chickens also ended up in our chicken soup after a visit to the yard by the "shochet" -- a ritual slaughterer.

After the garage became cinder block, the adjunct was used for grocery storage. Wooden soft drink crates with empty bottles were also stacked in the yard along the Maple St. fence and under the overhang of the house at the exit from the store.

The scenic centerpiece of the yard was the big Chinaberry tree which stood fairly close to the


house and whose branches, in full bloom, would almost reach the kitchen window upstairs.
The poisonous berries -- which I remember as green despite what the botanists say -- were hard and good for throwing at things and each other.

In the Fall and Winter, they got brownisnh and mushy and made a mess on the ground.

The lower branches of the tree were strong enough to be climbed on, but fortunately you couldn't go very high.

There was just enough room in the dirt yard to run around in and play a little catch -- hoping that the ball would not go over the fence into the Franks' yard.

The clothes lines were in the yard -- reaching from the back steps to the garage. One of our chores (although it fun) was taking down the dried clothes.

At times, Mom used the area near the Franks' fence for a garden where she planted flowers -- I believe zinnias were her favorites -- and vegetables. I remember corn stalks there.

She let us plant radishes and carrots, which got the quickest results.

During high school days when tans were in, the roof of the garage was good for getting some sun -- about five minutes was enough with the sun baking on the tar paper.

The problem with going to the roof was climbing on the Franks' fence and hoisting yourself up. Also Mom hated it.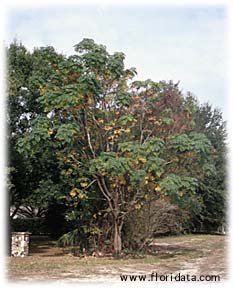 (Not the real tree)

Chinaberry Tree
(melia azedarach)
Pinnately divided leaves and toothed or lobed leaflets. Has purple flowers and yellow wrinkled, rounded berries, borne in terminal clusters.A tree of northern India and China, naturalized in the southern United States as a shade tree.

Back Yard Slam Dunks...by Solly
The back yard was also used as a basketball court. We would put a wooden hoop, taken from a vegetable crate, over the garage door, probably before the cinder blocks replaced the wood and the cement drive- in was laid, and have vicious games of half court - involving kids from the neighborhood ( which ones I don't recall) . Another half-court was in the hall next to the store before it became Itchy's radio repair shop and later the liquor store. We would use a large rubber ball and shoot for the "basket," which was a strip of molding above the door. We also used the stairs in the hall, leading to the second floor, for step ball. I also remember the Fischers and the Lees as the neighbors on the South.

The geechee courier

---