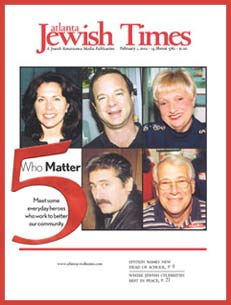 Kenny (top center)

Kenny Sonenshine:
He Knows the Score

By Vivi Abrams/The Atlanta Jewish Times
As the father of three boys, Kenny Sonenshine knew he was going to be spending a lot of time playing sports. He just didnít know how much.

In the last 15 years, Sonenshine has volunteered for the Marcus Jewish Community Center of Atlanta (MJCCA) as a baseball coach, basketball coach, basketball commissioner, co-chairman of athletics for the Maccabi Games and now chairman of the recreation and wellness committee and a member of the MJCCAís board of directors.

As chairman for the past three years, Sonenshine oversaw the moving of the athletics department off-site during the construction of the JCCís Zaban Park building, moving into the new building and the first Maccabi Games to be held in Atlanta.

He also handles disciplinary problems and chooses commissioners for the different sports leagues. "He pretty much puts his stamp on most everything we do," said Howie Rosenberg, assistant director of the recreation and wellness department. "His beliefs are really in the good of everyone. He has no hidden agendas for himself. He tries to do whatís best for the kids and the community center. He handles all the situations with such diplomacy it really makes it easy to work with him," Rosenberg said.

Gary Cohen, recreation department director, said he remembers talking Sonenshine into tackling the athletics part of the Maccabi Games. First he took Sonenshine to the games in Houston in 1999, which started on a Sunday and lasted a week. "So he went and he was so tired he went home on Tuesday," Cohen said. "He said, ĎI have to go home, Iím exhausted!í I think he said, ĎIíll do it, but Iím going home.í . . . He ended up doing a marvelous job."

Sonenshine grew up in Charleston, S.C., and said he was always at the JCC there when he was growing up, involved in Bínai Bírith as well as athletics. In Atlanta, he serves as vice president of family owned Wholesale Industrial Electronics, Inc.

"When I moved here, I played in the basketball leagues, when my kids were born I sort of got involved," he said. "My kids have worked at the center . . . itís just been a great atmosphere. Theyíve given so much to me."

Sonenshine said he had fun co-chairing the athletics department for the Maccabia games. "The outcome was great and I thoroughly enjoyed doing it," he said. "It encompassed my life for about a month. It got me involved with doing different things in regards to finding venues and speaking to the different people at the venue locations . . . letting them know what we were doing and seeing their reaction to it was just rewarding for me."
He said his wife, Debbie, a teacher and a volunteer for Hadassah and the Jewish Federation of Greater Atlanta, understood Sonenshineís commitment with the Maccabi Games. "She said, ĎIíll be glad when this is over,í and I said, you wonít be the only one, Iíll get to see you for a change," Sonenshine said.
Son Marc Sonenshine, 21, said he talks to his dad almost every day from Athens, Ga., where he is a senior at the University of Georgia. During the Maccabi Games his dad talked about nothing else, Marc said. "It seemed like it was the only thing going on in his life," he said. "I just think he was real excited about it. At times it was stressful because he wanted it to be perfect for the kids. He wanted it to be a memorable experience and an enjoyable experience for everyone involved, not just the kids. He worried about things he didnít have control over."
Marc Sonenshine coaches a basketball team for 9- and 10-year olds in Athens. He said his father, who was his coach for 12 years, inspired him. "I try to emulate everything he taught me," he said. "I think I learned a lot from my dad not only about the sport but how to be a good role model for kids, having good sportsmanship.
"I think thatís really just who he is, looking out for everyone, I know what he does for the three of us and I think it extends throughout the Jewish community," Marc said.
When Kenny Sonenshine is not volunteering he plays basketball and spends time with his wife and children, he said.
Sonenshine said he has followed in the footsteps of his friend, former MJCCA President Howie Hyman. Hyman ran the basketball league and trained Sonenshine to take over that position. When Sonenshine stopped serving as basketball commissioner, Hyman asked him if he would become chairman of the recreation and wellness committee.
Then the men co-chaired athletics for the Maccabi games. Sonenshine said he would consider continuing to follow Hymanís footsteps into the presidency. "Not right now," he said. Then, "If they want me to . . . the center has been great to me and my family."