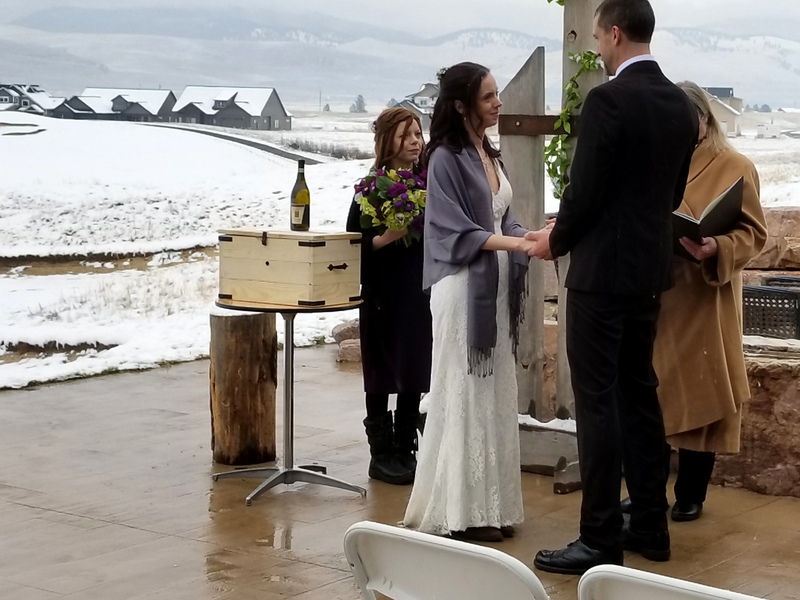 The Wedding
of Becka-Breibart White
And Stephan Simons
by Barry Breibart
Exclusive to Geechee Courier

The outdoor wedding ceremony of Becka-Breibart White and Stephan Simons was held November 4 on a remarkable moonlit Montana evening in a snow-covered landscape.

Becka is the daughter of Mark Breibart and Sheryl White of Boston. Stephan is the son of Harry and Eloise Simons of Missoula and the late Karen Stone.

The bride was attended by her sister Emma. Mark and Sheryl escorted Becka down the aisle to the music of "Thinking Out Loud" by Ed Sheeran. The Groom, who was attended by four of his brothers and his brother-in-law, walked down the aisle alone to the sound of "Somewhere over the Rainbow" by Israel Kaamakawwiwo'ole.

The non-denominatioinal service in Missoulawas conducted by Joan E. Cook, a lawyer/officiant. The temperature was between 27 and 32 degrees.

The memorable outdoor ceremony was a sparkling event. The pation overlooked a golf course covered with new-fallen snow and the star-like reflection off the slowly falling individual snow flakes.

A highlight of the wedding was the ceremony of the wine box. Becka and Stephan wrote each other a sealed, unread letter that was placed in the hand crafted wooden box that Stephan built for the occasion. A bottle of wine accompanies the letters into the box. The letters, describe the reasons the couple married and their feelings for each other.

The box will be locked until their first anniversary. If all is in haromony when the box is opened, they will read the letters and then drink the wine. If things aren't going smoothly, they will drink the wine and then read the letters, or so the story goes.

.After the brief ceremony a reception was held indoors at the appropriately named Barn on Mullan. A happy hour was followed by a buffet dinner.

The evening concluded with dancing to a DJ and the cake cutting.
Alongside a four-tier wedding cake, the dessert featured cupcakes and macaroons.
Becka and Stephan will make their home in Missoula.

The Breibart--White family was represented by Jack, Flo, and Barry on the Breibart side. The White family was represented by Becka's grandmother, Elaine, from Michigan, Uncle Charles White from Brooklyn, NY.

Several of the Breibart-White family friends also made the trip to Montana. The friends included several of Mark's college friends with their spouses. The guests came from Boston, Chicago, Jacksonville, Ill.,New York and Durham. N.C.

The Friday night rehearsal dinner was a barbeque event held at the Missoula Winery and Event Center.. The Sunday brunch was held in The Loft on Main, a venue in one of Missoula's many interesting and beautiful downtown architectural gems.

Despite the cold and intermittent snow, most of the out-of town guests were able to enjoy the museums, galleries, and coffee shops of downtown Missoula. Missoula is the home of the University of Montana, and the town is heavily influenced by the academic culture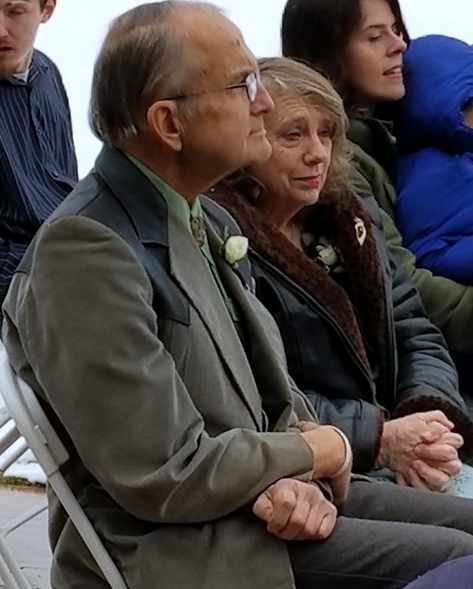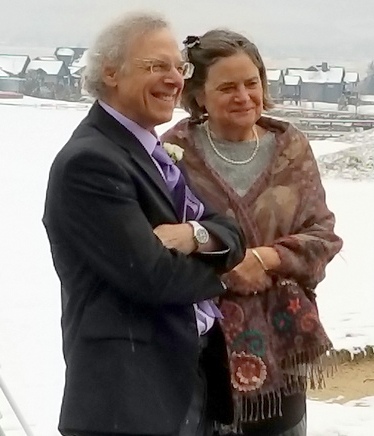 Harry and Eloise Simons and Mark Breibart and Sheryl White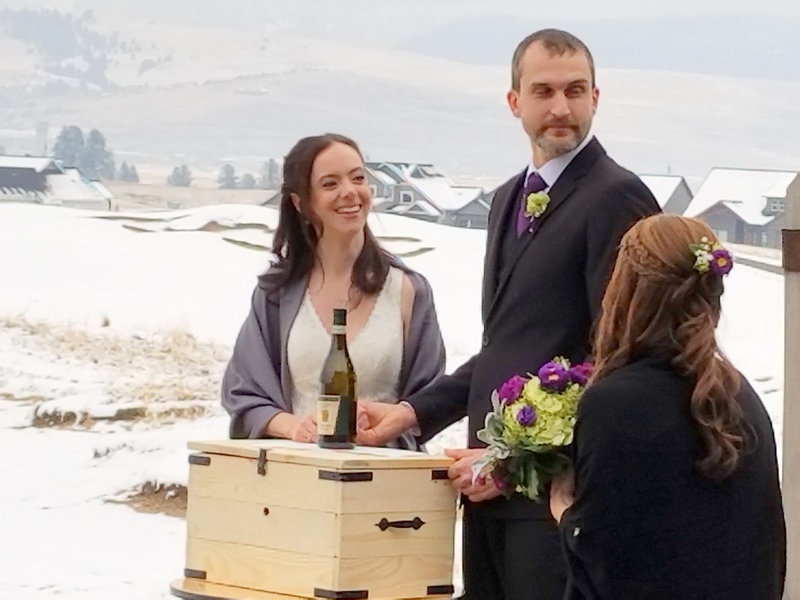 \Listening, with sister Emma, to Joan Cook, the wedding officiant, explain the wine box details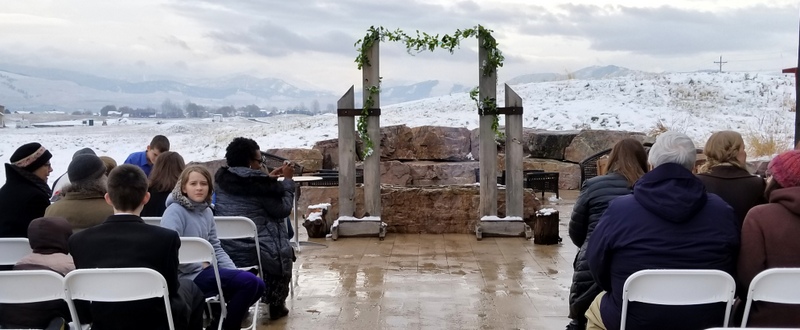 Overlooking the snow-covered Ranch Club golf course